This vegetable-based Shed Control Conditioner softens, detangles and enriches coats while helping to reduce excessive shedding and dander. Organic fair trade shea butter, glycerin and allantoin act to nourish the skin, as well as lock in moisture to reduce dryness and scaling. Powerful antioxidants, including green tea leaf extract and omega-6 fatty acids, help protect the skin & repair skin damage which can trigger shedding. earthbath® Shed Control Conditioner is guaranteed to leave pets' coats incredibly soft and shiny. Use with our earthbath® Shed Control Shampoo for best results. Will not wash off topical flea applications. Safe for all animals over 6 weeks.
Purified water, vegetable-derived conditioner and detangler, organic shea butter, omega-6 fatty acids, organic aloe vera, phytantriol, extracts of green tea leaf, ginseng & awapuhi, preservative.

Learn more by visiting our Ingredients Glossary.
Shake well before use. Shampoo your best furry friend with earthbath® Shed Control Shampoo and rinse thoroughly. On a clean and wet coat, apply conditioner liberally and massage deeply into coat and skin. Leave on for at least two minutes to allow this potent formula to work its magic. While waiting, ponder things you'll do with your extra time not spent vacuuming. Rinse completely with clean warm water and towel dry with a big hug. May be diluted ten parts water to one part conditioner if desired.

Precautions: Avoid eye contact. Immediately and thoroughly flush with clean water if eye contact occurs. Shampoo is solely intended to cleanse coat and skin. Keep out of reach of children. If swallowed (by humans), consult a physician. If any irritation develops, stop use and contact your veterinarian. As this product contains naturally derived ingredients, changes in color may occur. For pets with sensitivities: we recommend consulting with your veterinarian before using a new product.
Organic Shea Butter
Full of fatty acids, vitamins and minerals for excellent moisturizing, soothing, and skin softening.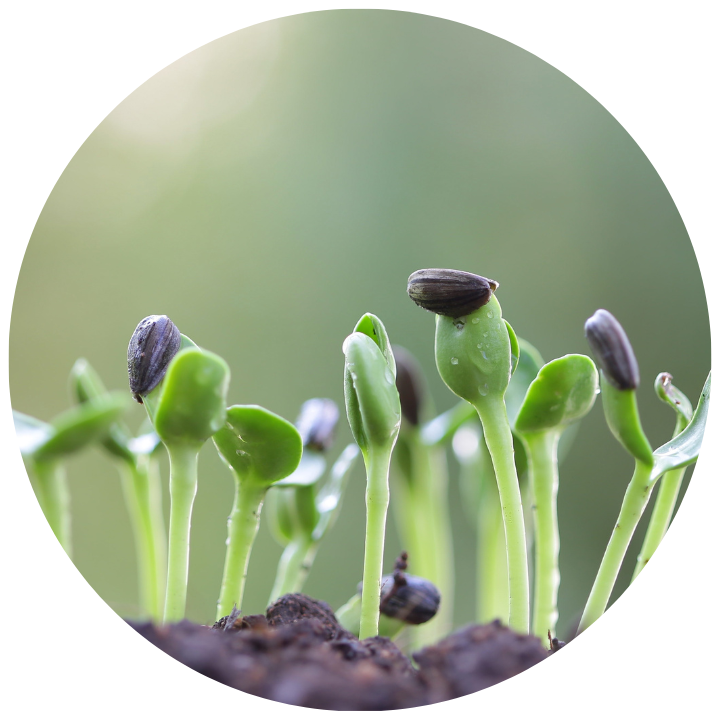 Omega-6 Fatty Acids
Naturally occurring in certain plant foods, omega-6 fatty acids help to stimulate healthy skin and fur growth.
earthbath shampoos and conditioners are highly concentrated. They can be used straight out of the bottle, and we recommend doing so sparingly, as as little bit goes a long way! Should you wish to dilute with water, you can. Just be sure to pour some product out of the original container and mix in a separate clean container and use it within 24 hours. For our 16 oz bottles, we recommend diluting up to 10:1.
Our shampoos are soap-free and made using nontoxic ingredients, so they won't strip your pet's skin of natural oils or dry out the skin and coat. In general, most dogs and cats will not need a bath more than once a week. They have natural skin oils that keep their skin healthy and more frequent bathing can remove more than a healthy amount of skin oils.
We are proud to offer a Happiness Guarantee on all of our products. This means your purchase comes with a 100% money back guarantee! If you're not completely satisfied with our products, simply return your purchase to the original seller or contact us within 90 days from the date of purchase so we can make it right.
Customer Reviews & Questions
Customer Reviews
100
reviewers would recommend this product
Write a Review
Ask a Question
07/05/2023
Azul

United States
I recommend this product
DANGG
This shed control shampoo works very well. It got off so much fur and left my dog feeling soft and smooth. Now when i brush her very few fur comes off. I highly recommend this item.
Hi Azul, thanks for the raving review! We are so glad our Shed Control products are working wonders for your pup! - your friends at earthbath
We were given a full size sample of the shampoo and condition to put it head to head with the current 2 step deshed system we are using in our salon. Well... we used it on several dogs, including a staff member's dog. And we are VERY impressed! We love that it is a safer product, and the feedback has been overwhelming for how nice the dog smelled, how soft they felt, and they saw no difference in the post bath shedding than with the other major brand product we've used. We will be adding this Shampoo & Condition combo to our product line ASAP!!